APPEARANCES
CLASSWAR KARAOKE 002

2008
Bodies the Instruments
Internet Compilation
Published by Classwar Karaoke

"0002 survey has a theme – 'Bodies the Instruments' - proposed by SIFIR; derived from and connected to his Somnambulist Situationists project. The music, images, and writing of each of the contributors to classwar karaoke 0002 survey constitute a response to this theme, to greater or lesser extents. (Or: the karaoke must be built.)" - C.K.
FROM YODELING TO QUANTUM PHYSICS
2008
Archibooks Vol. 1
BOOK
233 pages. Richly ilustrated Hardbound, French and English language both. Bryan Lewis Saunders is on Page 182 between "Satanism" and "Peter Saville's album sleeves for New Order and Joy Division"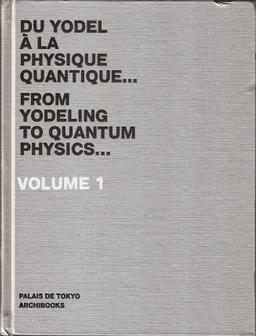 "Yodeling, quantum physics, zombies, occultism, woodcutters, mutants, antimatter, tuning... This book provides an exhaustive review of the Palais de Tokyo's program from September 2006 to December 2007. In the style of an encyclopedia, it includes several hundred entries and illustrations, ranging from the artists exhibited in the course of the year to Mike Tyson by way of key concepts underlying the program. In the multiple connections and link-ups it allows, this book extends the desire of the Palais de Tokyo to decompartmentalize intellectual and aesthetic categories, increase possible interpretations, and continually question the bridges between contemporary art and reality." - Frederic Grossi






INFOLEPSY VOL. 1 INFOLEPSY VOL. 2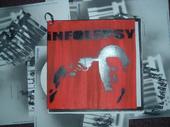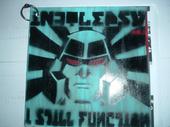 "Cowboy Christians and Hippie Injuns" "The Meaning of Life" / "Project Hope"
iNFOLEPSY is a 100% homemade zine featuring artwork, literature, entertainment, and music from all kinds of unique genres. it is held together with love, magic, and a fashionable ring in the upper left corner. attach it to your wallet chain or earring to impress anyone! all copies are hand painted, stenciled, waxed, washed, polished, purified, and fermented. and it's a 100% great use of five bucks. you can even open the ring and remove your favorite artwork to hang up! 36 pages.







JOHN EDEN PRESENTS: RSI RADIO VOL. 2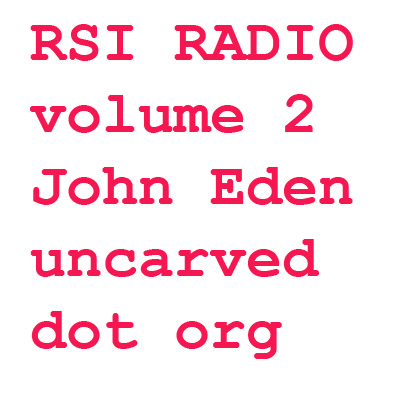 Uncarved presents one hour and 23 minutes of music and commentary for your downloading pleasure!
Without giving too much away, this installment of RSI Radio is more eclectic than the debut. Fans of the first edition will be relieved to hear that I am less mumbly this time. 10-28-06.




CHAOTIC UNDERWORLD:
NOISE RECORDINGS VOLUME 2 FALL 05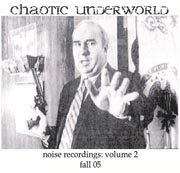 #CU10. 10-28-05. "Near Death Experience" with Thunderwolf.