The Confessor
2013
SUT-13
Book on Tape


Vocals by Bryan Lewis Saunders
Music by Hopi Torvald, Kommissar Hjuler, Razen, Classwar Karaoke Friends, Evil Moisture, Wehwalt, Adam Bohman & Adrian Northover, Love, Execution Style, Yoshihiro Kikuchi, Christopher Fleeger, Sinus Buds, Andy Ortmann, Joke Lanz, Dylan Nyoukis, Lee Gamble, CM von Hausswolff, Leif Elggren, John Moloney, Matt Reis, Language of Light, Offerings, Requiem, Hopek Quirin, Michael Esposito.
Art and Design by Alice Salyer


Edition of 33
Each cassette comes with a booklet of sleep talking text. Each book on tape comes with a NIB walkman, vintage carrying case, linen postcard, and stationary.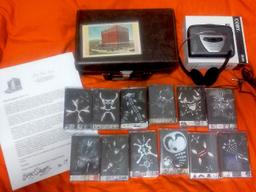 BRYAN LEWIS SAUNDERS, The Confessor (12xCS + box set + walkman, Stand-Up Tragedy Records) We open this first autumn meeting of Hot Wheels with the mammoth job of the American Bryan Lewis Saunders. It is a leatherette box set containing 12 cassettes, total duration of about 11 hours, and a walkman with headphones for listening. The audio content is the recording of "verbal ruminations" uttered by the same Saunders in REM sleep during a period of stay of 30 days at an apartment in the John Sevier Center in Johnson City, in the state of Tennessee. But before we lay down on tape what he calls "stream of uncosciousness (narrative mode)," Saunders thinks well of spedirne excerpts to 24 (one per side) friends and musicians around the globe (Andy Ortmann, CM von Hausswolff Lee Gamblein, just to mention the most "known") in order to create a soundtrack to accompany the ad hoc listening to what takes the form of an audio-book outlines psychoanalytic effect, I must confess, rather disturbing, especially when taken in one breath. Nevertheless, listening to the comments focused sound pleasant surprises that, in some cases, are able to dissolve the mood extremely intimate (we're talking about a guy who has poured out on cassette and put on sale at 95 dollars a piece, the chronicle of his dreams / nightmares), almost claustrophobic narrative of this narcoleptic and ensures the same author, totally unconscious. We are located in a little 'everything from folk-gaze electronic Hopi Torvald to glitch noise of Yoshihro Kikuchi, from the psych-drone to industrial Requiem of Offerings, dall'impro mold lower-case and Adam Bohman Adrian Northover to the movements of minimalist CM von Hausswolff. I strongly suggest you take a look at his site. - Nicola Guiunta (The New Noise) - Google Translation