Busting Open
2008
CU32
CD
Vocals by Mr. Brain Sander AKA Bryan Lewis Saunders, (except track 2 vocals by B.L. Saunders & Patrick Mannequin Hollowcaust) All music created, mixed, edited, remixed and mastered individually by the individual artists listed below. Special thanks to Chaotic Underworld. Art by Dustin (Brother Fyodor). And thanks to all of the musicians involved and Bipolar Joe the only contributor not from TN. All stories are true, some names have been changed though so we do not get sued, and all of the stories took place in our beloved TN, except Tony Baloney which took place in Northern Virginia.
1 - Dogs Don't Shit On the Sidewalk - Killbot - 2:56
2 - Bobby Chatman - Mannequin Hollowcaust - 1:41
3 - Project Hope - Love Execution Style - 3:24
4 - Busting Open - Killbot - 8:38
5 - The Incest Bomber - 1:53
6 - Tony Baloney - Radio vs. Static - 6:09
7 - Pig Fucking Story - B.L. Saunders - 11:00
8 - Nasty Girl - Lucid Nightmare Paradise - 7:44
9 - Wing Nut - Bipolar Joe - 7:37
10 - September - B.L. Saunders - 2:06
11 - A Friend of mine - Brother Fyodor - 6:59
12 - Busting Open pt. 2 - M. Peck - 5:25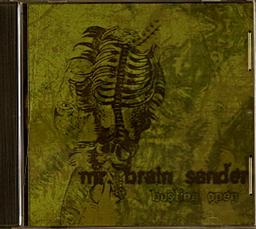 "BUSTING OPEN" is a storytelling CD composed mostly of tragic stories from here in Tennessee. The music is made up of soundtracks and remixes by musicians mostly from here in Tennessee. The title refers to my apartment building, where people die and don't get found right away sometimes, usually it just takes a phone call from a concerned friend or relative, but sometimes there is a sick sweet smell of putricine and cadaverine that alerts the rest of us to someone's death. And when people die and are left there long enough, there body fat starts leaking out, oozing profusely through what appear to be tiny tears in their skin. The maintenance guys calls this busting open. Sometimes the whole abdomen just ruptures with a "wet pop" and the maintenance guys call this, busting open big time... and so it goes.