N1-N4 Variations (vocal documentation from all four sleep stages)
2008
SUT-6
CD
N1: Loss of some conscious awareness of the external environment and muscle tone.


N2: Conscious awareness of the external environment completely disappears.


N3: The stage in which night terrors, bedwetting, sleepwalking and sleep-talking occur.


N4: A deeper version of N3, in which the deep-sleep characteristics are pronounced.
(NOTE: THIS CD IS 85% UNCONSCIOUS SPOKEN WORD)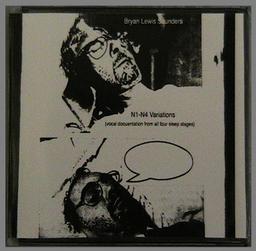 "See there was a crack in there, and I reached my hand down there, as far as it would go. Ever farther than before. And that's when I found it. Alan Sondheim's book of dirty little secrets to live your life by. Well then the waiting steps. A second trick him. Hmm."
One of the stranger items I've had to review, although I forgot which issue, was the 'Experiments With Dreams' by Thomas Liljenberg and Leif Elggren, a book about dreams and CD with the sound of two people sleeping. Hardly a surprise that the same Elggren suggested one Bryan Lewis Saunders to release his 'N1-N4 Variations' - 'a vocal documentation from all 4 sleep stages'. Fifteen pieces in total of this. It started out with recordings of his dreams when he was awake, but he decided to create while dreaming and talking in his sleep. Certainly as strange as the Elggren/Liljenberg release, but not snoring sounds, but unconscious talking. Not always easy to follow what he is saying, but surely 'strange' enough. Maybe its a bit long at fifteen 'tracks' that all sound quite similar but its surely something to use when having guests at the dinner table - even when this is released in an edition of 20 copies only. - Frans de Waard: Vital Weekly
1st release in the dream series.