Sex, Drugs and Institutions (NTSC)
2007
SUT-4.5
DVD
Featuring - Kaontrol Kontraos and The Killbot (Track1), Kaontrol Kontraos (Tracks 6 and 9), E. Nauman remix (Track 3), Joachim Montessuis (Track 4), John Duncan (Track 5)
Signed and numbered, in an edition of 100, the NTSC format version of this release included different music accompaniment and multiple cover art versions and numbers 1-20 came with all of the different cover art variations.
1 - If My Mother and I Were Monkeys - 1:46
2 - The Safest Way To Get High - 5:34
3 - My Deepest Darkest Fears - 3:51
4 - PCP Poetry - 2:58
5 - Small Town Dark Secret - 6:36
6 - Subject In Question - 6:18
7 - The Beach - 8:29
8 - I Quit - 5:21
9 - Promethazine - 2:51
10 - The Deposition - 2:58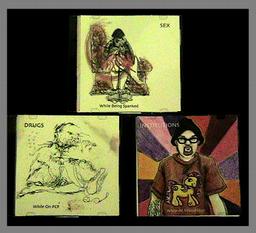 Erratum Press Release:
Le poète Bryan Lewis Saunders (né en 69) vient de Johnson City, Tennessee, pays de Gummo (film pseudo culte d'Harmony Korine) et du rêve américain inversé. The poet Bryan Lewis Saunders (born 69) comes from Johnson City, Tennessee, countries Gummo (alias cult film Harmony Korine) and the American Dream reversed. Ses lectures-performances sont une résurgence étonnante du Spoken word hardcore américain, se situant quelque part entre les furies respectives de Lydia Lunch, John Giorno et Henri Rollins. His lectures-performances are an astonishing resurgence of hardcore American Spoken word, lying somewhere between the furies respective Lydia Lunch, John Giorno and Henry Rollins.



Ses interventions vocales accompagnées de vidéos sont ce qu'il appelle des "Stand-Up Tragedy" : là ou les comiques essaient de vous faire rire, Saunders essaie au contraire de vous faire pleurer. His interventions vocal videos are accompanied by what he calls "Stand-Up Tragedy": where the comic trying to make you laugh, on the contrary, Saunders tries to make you cry. Explorateur de la tragédie humaine, il passe le mal américain au scalpel en dévoilant ses aspects les plus cachés, cherchant à le montrer publiquement et le rendre socialement acceptable Explorer of the human tragedy, he spent the evil American scalpel unveiling its most hidden aspects, seeking to show it publicly and make it socially acceptable



Il est difficile de rester insensible devant l'intensité d'une performance de Saunders, que Lydia Lunch définit comme "hilarious, awful and brutally honest : the bastard son of William Burroughs, Antonin Artaud and Crispin Glover" (acteur burlesque américain). It is difficult to remain insensitive to the intensity of a performance by Saunders, as Lydia Lunch defines as "hilarious, awful and brutally honest: the bastard son of William Burroughs, Antonin Artaud and Crispin Glover (American actor burlesque). Première performance en public à Paris, à ne pas manquer. First performance in public in Paris, not to be missed.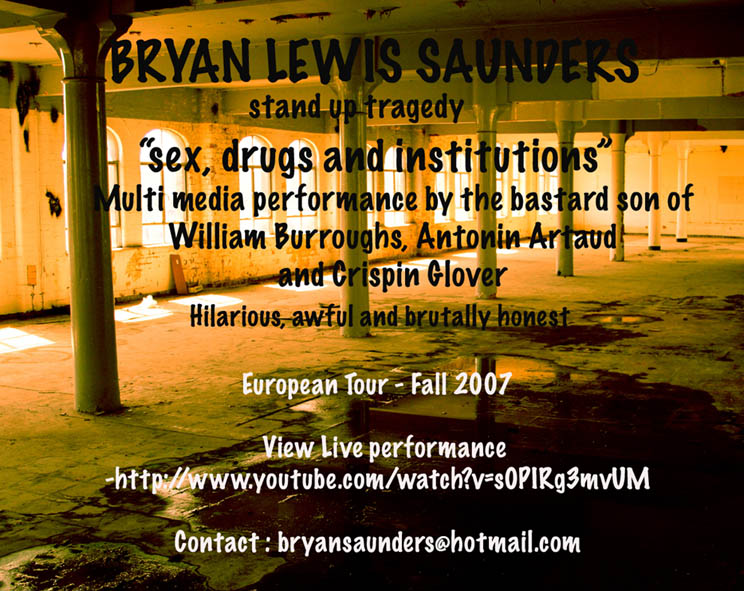 POSTER BY LYDIA LUNCH
Stevil's KUSF Page: Next was a video artist/poet named Bryan Lewis Saunders. His act was completely messed up and bordered on psychotic. He tells stories with his poems and videos, but it's not happy Hollywood types of stories, it's intense and hard reality tales of tortured animals, prison life and asphyxiation thrill seekers. It was some thought provoking, wake-up-calling and psycho-analysis-needing perspectives on the world; also weird, but not necessarily good weird. Intense.