14 July 2008





(photo by Sean Carnage)


The short California Tour with Captain Ahab was truly incredible. Jim, Jonathan, and Christina were as wonderful as could be to me. Every one in California made me feel welcome and at home. Never once did I feel like an outsider, which was really nice for a change, and every day was really bright and sunny. When it came to the people, they could not have been better.

The first show in LA at the Smell was intense. "Cool In The Pool - Day 1" A lot of bands! Xrin Arms I would say was one of the main highlights, unfortunately I missed the first few bands. I got to meet Sean Carnage and I got to see Eva from Kevin Shields again and Tik//Tik. I got to meet Brian from Foot Village finally, after missing their show here in TN. I also got to meet Larry, videographer and self-proclaimed deuchebag who does the Captain Ahab videos. He was cool as shit I must admit. I was still a bit tired from the trip, so a lot of that night was a blur.

Only one show out of the six sucked. The second show in San Diego at Chasers blew! The yelp.com reviews could not have been more wrong, the people that write those are total prudes. It was not nearly as trashy as I was led to believe, I felt cheated, (I did not get to put the smackdown on any crackheads and never even saw a pimp once!) and the only people that were there, were there for the bar. We positioned the projector so the patrons would have to watch it whether they wanted to or not, and at one point I spontaneously told them to, "Shut the fuck up!" which left me feeling a bit awkward but it worked. Before the show the bartender gave me a PBR, after the show he said, "I can't give you anymore!" I asked him how much for a jack and coke and he said, "Hmm - well, I can give you one of those." with the hopes that I would get sucked in to the world of liquor like the rest of them and spend more money than we made. It didn't work. He didn't get shit, I got a buzz and we each got 15 dollars. Like I said pretty fucking lame. After the show I met a guy named Stephen and when he came outside later on, I said, "Hey thanks again Gregory." Which freaked him out, because he had just told me his name was Stephen and that it just so happened that his middle name was Gregory and that he never tells anyone his middle name, it was supposed to be a secret. That was crazy! I'm bad with names but Stephen Gregory was cool. But the highlight of that show was that an old friend of mine came to see it, Shawn Garard from the band Immoral Discipline. We had not seen each other since he left D.C. in 1990. It was great hanging out with him again and talking about old times, and telling him more than he probably wanted to know about all of the fucked up new ones. It was great.

Next I saw 'Spring Awakening' at the Powerhouse Theatre in LA. Put on by the Los Angeles Theatre Ensemble. Directed by Evan 'FLUSH THE MUSICAL VERSION DOWN THE' Drane. This was the real deal, some of the scenes were exceptionally intense, one especially brutal and hard to watch (even for me) and one perfectly suspenseful. Hard to believe the play was written in the 1890's. I think Frank Wedekind would have been pleased. The actors were all good. Too many to list. And the costumes were great too. Met a lot of people afterwards at the party. All cool.
( INSERT JIM DROPPED ME OFF AT THE MUSEUM OF JURASSIC TECHNOLOGY HERE )
And he also took me to see the Hollywood Sign a bunch of times, the Playboy Mansion, Ronald Reagan's house, the Whiskey, and studios and the Culver City Farmers Market, all types of wild shit, too many places to list...

On the 4th of July we did the Golden Gate Park in San Francisco. No public porta-potties so I had to shit in the woods, and it was bigger than the average California truck burrito. I went on after Bloody Snowman which couldn't have been planned better. I was in the middle of urinating behind the stage when Jonathan asked me if I was ready. I looked over my shoulder in midstream and was suprised to see a crowd of people standing there watching me and waiting on me while I peed. When I finished, I zipped up my shorts and grabbed the bullhorn and after that IT WAS ON! No videos, no music just a short intense verbal assault impact commercial ad for the next night at the Hemlock Tavern. When I was done Captain Ahab went on and then they did their new songs and really got the people going crazy with the:
"Y - O
HERE WE GO
GET DOWN ON THE FUCKING FLOOR
SHAKE YOUR BODY LIKE A WHORE
FUCK 'TIL YOU CAN'T FUCK NO MORE!"
I met some cool people in San Francisco. Christopher Fleeger. What can I say, all around great guy! Besides taking care of us and showing us around while we were in town, he turned me on to the wonderful world of Huell Howser and California's Gold! (where Down Syndrome meets religious nirvana) I will be eternally greatful for that. I am also really looking forward to hearing more from his band Barnwave. And a new video doc. project he's working on. Cool Caleb was there too.

Christopher took us to the Musee Mechanique (The Mechanical Museum of San Francisco), which was really wild. I got to see mechanical executions for a quarter and old flip book films with sexual harassment from the 20's and play Ms. Pacman all in the same place NICE! Outside I bought a matching Alcatraz hoodie and ball cap and became an instant tourist douchebag, and Christina bought a pair of shark socks with cloth teeth that will always chomp on her legs.

The show at the Hemlock Tavern in San Francisco was fucking incredible. Standing room packed. You could have heard a pin drop during my set. The bullhorn broke so I tried to break the '4th wall' with psychotic eye contact. I think it worked. It was one of the most intense sets I've done. I built up the tension extremely thick and then - THE MIND FUCK - Captain Ahab ripped it apart, SHREDDED IT, with room only enough for them to crowd surf. Followed by Battlehooch. ALL AND ALL A GREAT NIGHT! And the Battlehooch guys were extremely fucking nice. Oh I almost forgot, earlier in the evening, the 60 Watt Kid had welcomed all of the backed up, blocked off thru-traffic to SF in an unremarkable but yet note worthy way.

Next, Sacramento.
Where was I - yuck ! I smell a dead animal right now, really strong - hold on. OK, I shut the window.
We went to an In N Out Burger, and saw the Harris Ranch Cowschwitz in the same day.

We met up with an "actor" named John, and Bill Hutson of (Rale and Gang Wizard) in Berkeley at the 'Original' Ameoba Music Store. Thanks to Bill we took two cars and got to experience sardine freedom to Sacramento where we were to play in a basement. Next door to the house show house, in a very residential neighborhood, was an old concrete building, and inscribed in the masonry were the words, "CHEMICAL HOUSE NO. 2". All of the windows and doors were covered with black curtains. While we sat in the car, a group of people carrying bibles with bookmarks and other wierd reading materials walked in front of us and down the alley. I thought they were going to "CHEMICAL HOUSE NO. 1" but they just dissappeared. We then went to eat Chinese food and everyone got really screwed up fortunes.
My fortune: "Speak only well of people and you need never whisper." ?
While standing outside of the restaurant a bicyclist rolled up on his bike and asked, "Are any of you in recovery?" Somebody said , "No", but none of us knew what was to be recovered from. Very odd. I got to meet Jason Fury for the first time, and he gave me a kickass Viking pool cue. Two cars of cool people drove up from Oakland to see us which I thought was really fucking awesome. Then let's just say the opening act before me liked the Devil and Daniel Johnston movie A WHOLE FUCKING LOT ! Then I did my show, and something strange happened. Towards the end, I asked the audience to chose between, obesity, prison violence, or animal torture. The consensus was obesity and without thinking I said, "OK - let's do missing children then. Now I've never allowed myself to have Subject In Question memorized, but it came out that way anyway, I about had a nervous breakdown doing the blasphemy, hid my head under a white towel crying and when it was over, I couldn't speak. I remember looking at Jim for help but I couldn't say anything and then when I looked at the screen behind me - IT FELL. CREEPY. So I have officially retired that piece. If there is a god, he got the point that night. Hanging out with Jason Fury was cool. I was glad he was there. Awesome to finally meet him in person!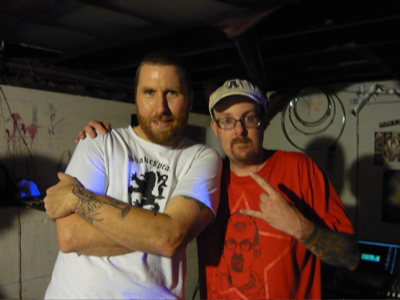 The last show was at the Pehrspace in LA. Best ever way to end it. Got to see Robert Inhuman and meet Simon! 1st up was a Video by Christopher Cichocki that was hypnotic in a visually agressive way. Then Cabinet of Natural Curiosities, made me feel really peaceful inside. Then Kevin Shields, Eva's hand to elbow on the film editor ! Then me, and oddly enough I got some laughs that night? And Captain Ahab surrounded by friends! THE wonderful wonderful END.
THANK YOU EVERYONE IN CALIFORNIA ! AND AN EXTRA SPECIAL THANKS TO JIM (WHOM I OWE BIG TIME!!!), JONATHAN, CHRISTINA, ELEANOR, EVAN, VAL, CHRISTOPHER, BILL, CALEB, JOHN, BRIAN, SHAWN, JASON, EVA, SEAN, KYLE AND THE LIST GOES ON AND ON.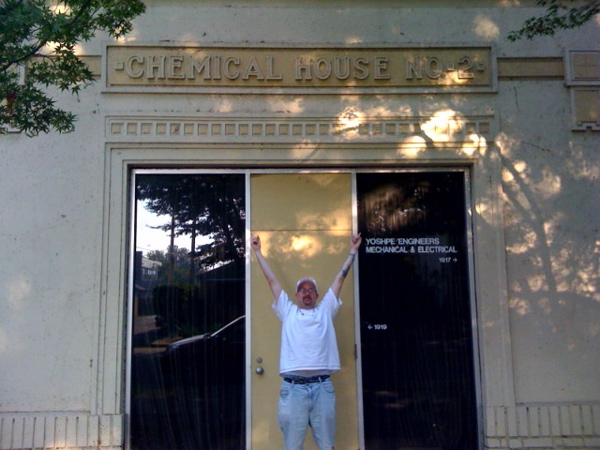 (photo by Jonathan Snipes)